Introducing Realworld
We turns the world into a huge playground!
893,935 times
Total plays
1,028,877 hours
Total play time
3,372 people
Total creators
(As of the first quarter of 2022)
Realworld is a next-generation storytelling solution that performs exciting missions across real space and online, providing variety of experiential play contents that invites players to become the protagonists of the story and unfolds adventures. In particular, Realworld's Augmented reality (AR) and other recent immersive technologies such as GPS, Chatbots, NFC, and other special features give you a great immersive experiences as if you are in a real situation. Realworld is not only providing a different level of fun to players, but also promoting change through their participation in the various fields such as leisure, tourism, education and society.

Depending on the scale of experience, you can choose and enjoy various theme of games from the mobile type to the outdoor type! also, Become the protagonist of the game! and perform a exiciting mission across the real space and the online. You are the only person to complete this story!

You can discover new attractions of places you have never known before while exploring every corner of the city and feel a unique sense of immersion by performing various missions with realistic technologies such as AR, GPS, NFC, Telephone, and Chatbot.

When you meet the Realworld, the world becomes a huge playground, and we all become players! Have a thrilling experience with Realworld where your ordinary life becomes a special adventure space!
Realworld design structure for immersive experience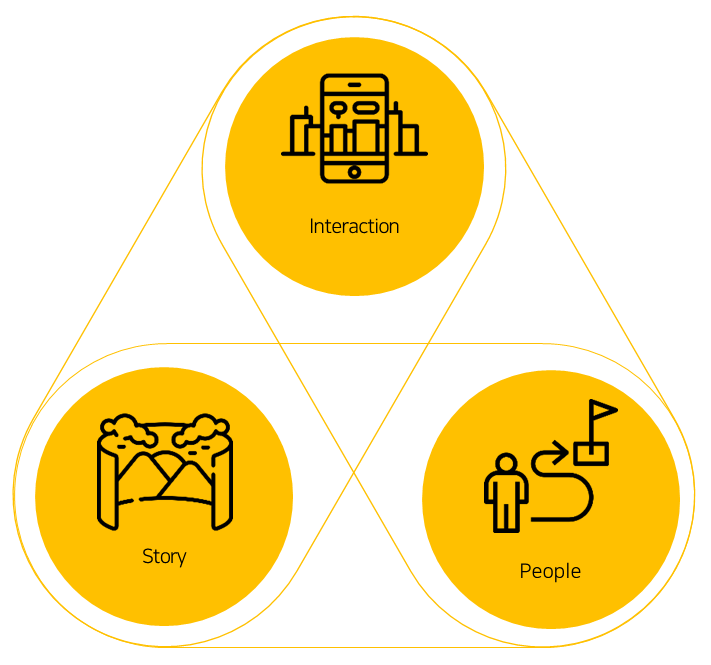 Interaction : Realworld amplify the player's immersion by utilizing a variety of interaction systems and technologies so that you can enjoy the story more realistically. 
- Interaction formation through technologies such as AR and IoT. - Interaction formation between analog game kits and sites.
Story : Realworld has an attractive story that breaks down the boundaries between reality and virtuality. Create a probable virtual story by utilizing elements of reality such as specific space, history, and objects.
People : Realworld can be enjoyed not only alone but also together, allowing the spread of experience.